ENTERPRISE MANAGER
Enhanced Job & Asset management
---
ENTERPRISE MANAGER - integrated Job & Asset management
Our ENTERPRISE MANAGER Plan builds on the foundations of our WORK MANAGER Plan by providing fully integrated and powerful asset management and asset tracking software UK companies can trust.

The Plan is aimed at users requiring a UK hosted, fully integrated solution for managing their assets, issuing service maintenance and other job types out to field staff supported by customised mobile forms.

To help reduce the burden of low level admin time on your staff also included in the Plan is workflow automation and a self-service Customer portal.

Wanting a better way to manage assets? Try it risk free and see for yourself.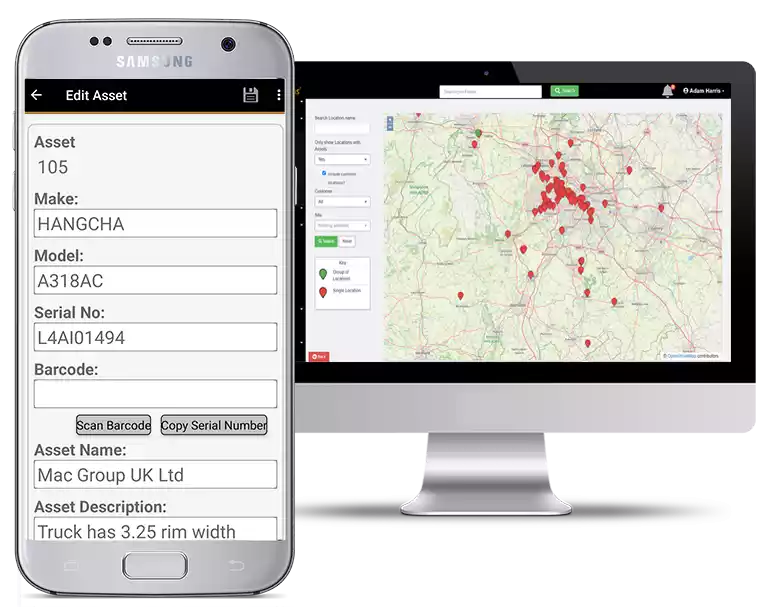 What is included & who uses the Plan?
Powerful asset management.

Workflow automation.

Self service Customer portal.

Integrations & connectors with 3rd party solutions.

Unlimited mobile forms.

'Team Plan' Online forms.

Set-up & configuration.

Training & support.
Typical ENTERPRISE MANAGER users include:


Facilities managers

Asset managers

HVAC installers & maintenance

Machinery/ equipment manufacturers

Materials handling/ powered access equipment
ENTERPRISE MANAGER


manage your assets & jobs with smart asset tracking software uk companies trust
Maximise the value and life span of your assets
Customisable for any type of asset.

Add custom fields to create a bespoke asset system.

Raise jobs directly against an asset.

Auto update assets from completed job forms.

Access & update assets using mobile app.

Scan barcodes in the app to retrieve asset data.
View full asset history.

Asset reports with customisable filters.

Check-in / Check-out feature.

Add filters & views for different user roles.

Map asset locations.

Bulk import assets routine.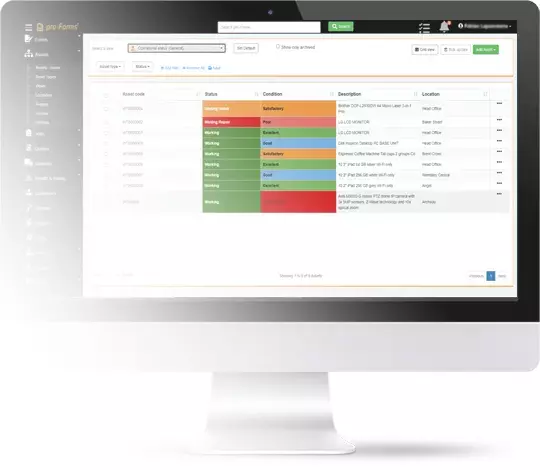 Workflow automations
Add Workflow rules against jobs, assets or forms.

Set rules to run automatically or manually.

Real-time view of actions being performed.

Define actions to perform e.g. send email create job & update asset.
Chain workflows based on other workflow outcomes.

Brand customised emails to be sent out.

Attach existing form layouts to outbound workflow emails.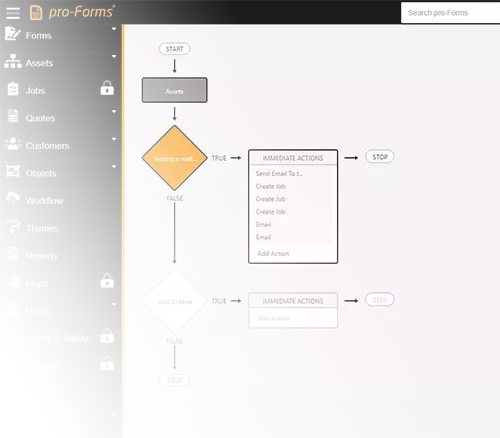 Integration & connectors
Zapier integration to connect to 5,000+ applications.

Real-time visual dashboards using our PowerBI connector.

Connect your pro-Forms® account securely to Office365.

Push & retrieve data to and from Salesforce.

Have custom APIs built to your backoffice solutions.
Generate invoices in Sage50 directly from submitted job sheets.

Push submitted forms to Sharepoint lists.

Automatically create folders and file submitted forms in OneDrive, Google Drive and Dropbox.

Push data using FTP & SFTP.

Retrieve Lookup file data from cloud storage or FTP location.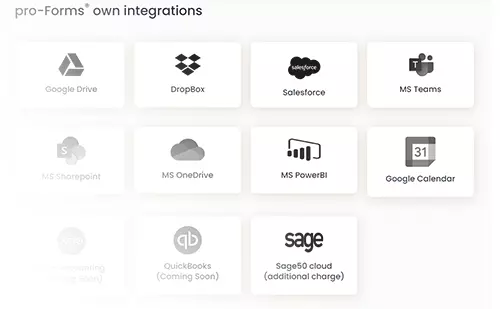 Customer portal (Coming soon)