Asset Management & Tracking
---
Maximise usage, value & lifespan of your assets
Still using spreadsheets to record asset data? If so, then you are probably finding the limitations pretty frustrating along with a feeling that there has to be a better way.

The good news is that there is a better way. A simple but highly flexible and effective way to manage & track your assets and which is fully integrated with Job Management and Mobile forms.

Using the pro-Forms® app in the field allows you to capture & update asset data in real-time for sharing with office staff across your business.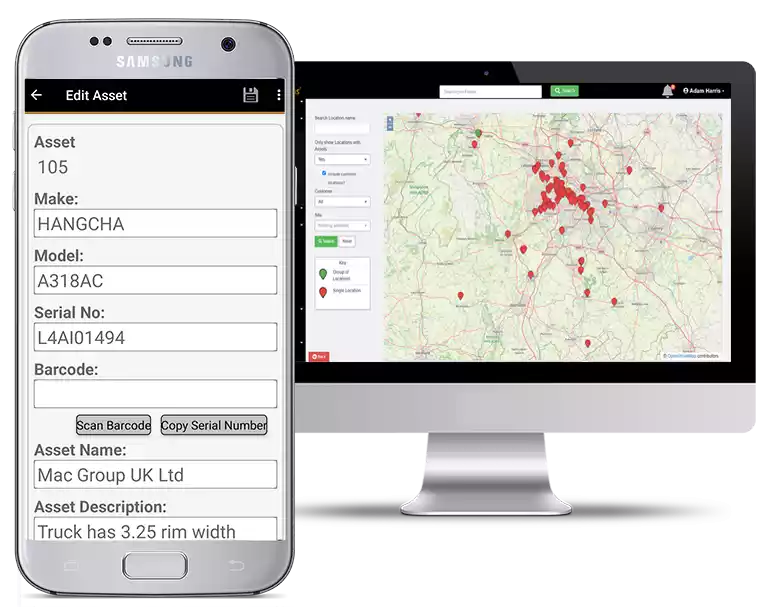 Access & update your assets from anywhere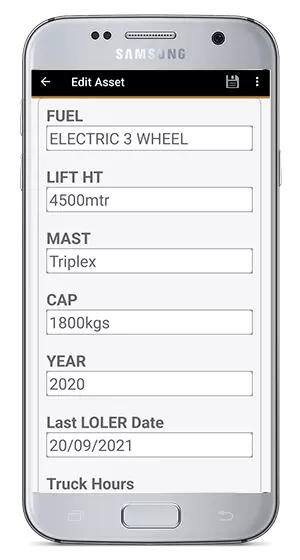 From forklifts to airconditioning and buildings. We have it covered.
Keep field & office data in sync
Automatic synchronisation of data between field & office staff.
See a full audit trail of asset locations & current condition.
Keep assets compliant and in-use through planned maintenance & never miss a service interval again.
Enjoy peace of mind with full GDPR compliance and UK hosting & support.
Scan a whole range of barcode types directly from the mobile app.
Integration with OneDrive, Dropbox, Google Drive, Sharepoint, Power BI, Salesforce & Sage50
Create any type of asset by adding custom fields to standard system fields.
Use field groupings to place fields together onscreen based on purpose or activity.
Create and save views to quickly locate assets with common themes e.g. forklifts by fuel type or reach.
Define access permissions for who can view or View & edit asset data.
Add customers, customer sites and asset locations within sites.
Sites can be identified by longitude/ latitude, Eastings/ Northings and Post Codes.
Customer sites are mapped and searchable with related assets shown.
Define custom calculations based on dates and other numeric fields e.g. number of days to next service interval.
Format fields and lists for visual assistance e.g. traffic light colours on countdown to expiry dates.
Add & scan barcodes to assets for field staff to quickly retrieve asset data to mobile app.
Compatible barcode types include : UPC-A / UPC-E / EAN-8 / EAN-13 Code 39, 93 & 128 / Codebar / ITF, QR / Data Matrix / Aztec (beta) / PDF 417 (beta) / MaxiCode / RSS-14 / RSS-Expanded.
Use 'Check-in' and 'Check-out' to track the movement of assets and their condition between various locations.
Keep a full asset audit and history trail of all updates and changes.
Assign different mobile & online forms to asset types that need completing as part of jobs e.g. asset condition survey at asset delivery/ collection.
Plan & schedule jobs against assets at defined intervals e.g. 6 / 12 monthly servicing.
Maximise the benefits of your assets
Our Asset Management module is simple yet flexible enough to meet your needs throughout the asset life cycle - from installation and commissioning to service and maintenance, performance monitoring and end-of-life.


Availability & lifespan
Minimise asset downtime, schedule regular maintenance & prolong useful lifespans.
Control costs & expenditure
Use Planned Preventative Maintenance & exception reporting to keep budgets under control.
Efficient auditing
Identify and track asset locations for accounting requirements & to maximise operational efficiencies.
Reduce loss & theft
Use 'check-out' & 'check-in' to record when assets are off-site and due for return to minimise loss & theft.
Compliance & reporting
Ensure your legal & compliance responsibilities are met through comprehensive reporting and planning.
Improved communication
Remove uncertainty & ambiguity between office and field staff through up to date asset records.
Typical Asset module users
• Forklift truck maintenance
• Construction supply chain
• Educational
• Airconditioning
• Property maintenance
• Manufacturing